Men's best friend has always been the animal. They therefore have an important place in the history of art.
During the 17th and 18th centuries, painting in Europe freed itself from its religious and didactic character to become an object of pleasure and collection. The painting of man and his surroundings developed and with it the representation of wild and domestic animals.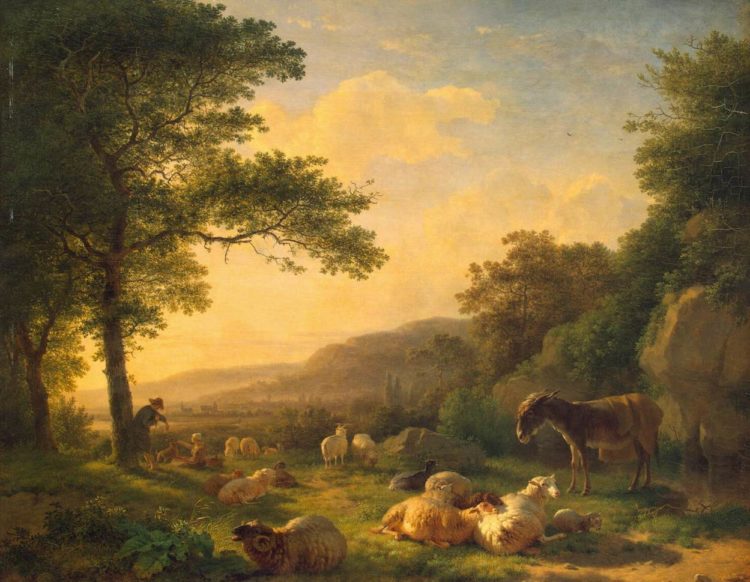 "Landscape with a flock of sheep", Balthasar-Paul Ommeganck,  oil on panel, H 68cm x W 83cm, ca. 1800, Hermitage Museum, Russia.
At the beginning of the 19th century, neo-classical painting in our regions depicted cows, sheep, horses, and other pasture animals in idyllic, hilly, often Italianate landscapes. The quality and refinement of painters such as Balthasar-Paul Ommeganck, Jean-Baptiste De Roy and Henry Van Assche were undeniable. They were very successful during their lifetime.
Their traditional style soon gave way to a style close to Romanticism of which Eugène Verboekchoven was the undisputed master. Self-taught and a celebrity of his time, it was a good idea to have a work by the artist in one's collection! Chromatic accuracy, correctness of the drawing, careful details and harmony of the composition, everything was there! The Rijksmuseum in Amsterdam bought two paintings from him in 1824 and 1825.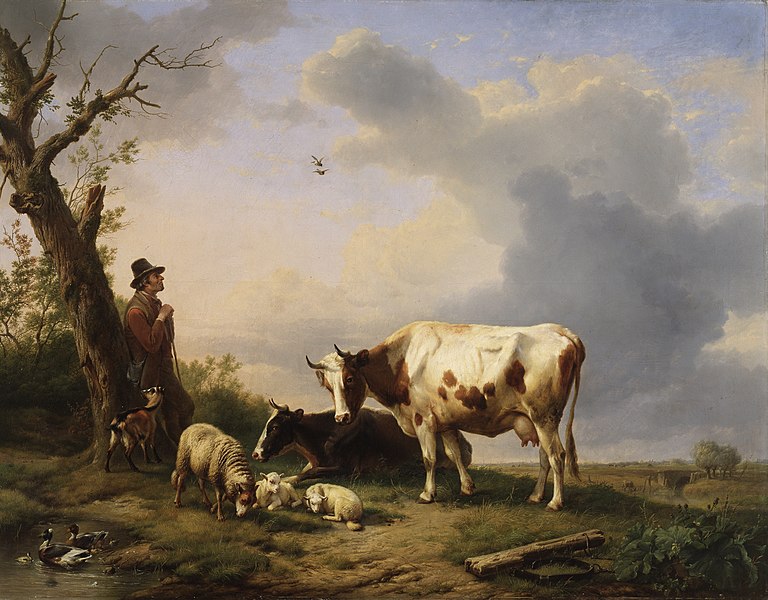 "Animated Landscape", Eugène Verboeckhoven, Oil on canvas, 1846, H103cm x W132cm,
Museum of Fine Arts Ghent (MSK), Belgium
Around 1830, the master's studio was enriched by the brushes of promising pupils: the Frenchman Thomas Francia, Eugène Vermeulen, Charles Tilmont, the Tschaggeny brothers of Swiss origin, Louis Robbe of Courtrai, and Daniel-Adolphe-Robert Jones of Brussels but of English origin. All of them remained fairly faithful to the master's genre, except for Louis Robbe who took the train of realism.
Verboeckhoven collaborated with numerous landscape and portrait artists. For example, in a work by his brother Charles, a seascape painter, Eugène will paint animals by the water. He also worked with Louis-Pierre Verwee, his first pupil, a landscape and animal painter. Louis-Pierre was the teacher of his son Alfred, known for his realistic painting of North Sea cattle, the Polders).  This phenomenon of collaboration was to develop mainly in Dutch Romantic painting.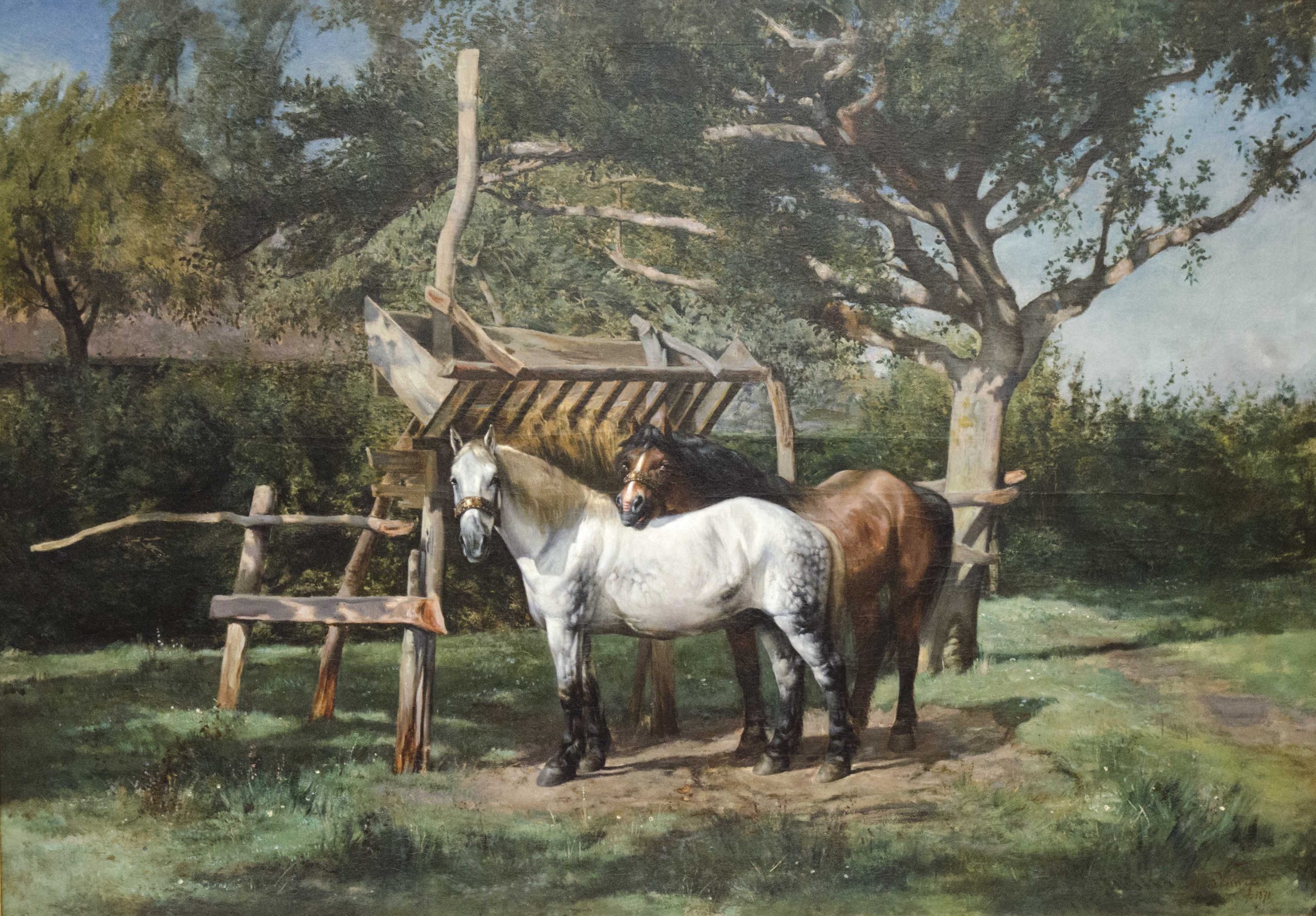 "Couple of Percheron", Alfred Verwee, oil on canvas, inscribed and dated 1871, H 98cm x W 140cm. L'Egide Antiques Collection©.
Towards the middle of the 19th century, the artists of realism imposed themselves, with their desire for objective observation, exact rendering, the end of idealization and anecdotal sentimentalism. The genre of (animated) landscapes was constantly modernizing thanks to the Barbizon school in France and the Tervuren school in Belgium.
Under this influence, animal painting progressed, diversified, and specialized. Alongside livestock, the public turned to scenes and portraits of dogs, cats, birds and even monkeys!
Joseph Stevens, a pupil of Louis Robbe and brother of the genre painter Alfred Stevens, brought a breath of fresh air to the painting of domestic animals. A pioneer of the genre, he expressed animal psychology realistically through the composition, expression and position of the animals, but also through the medium.
Poultry and birds were the preserve of André Plumot, Piet Van Engelen and Jean-Louis Van Leemputten.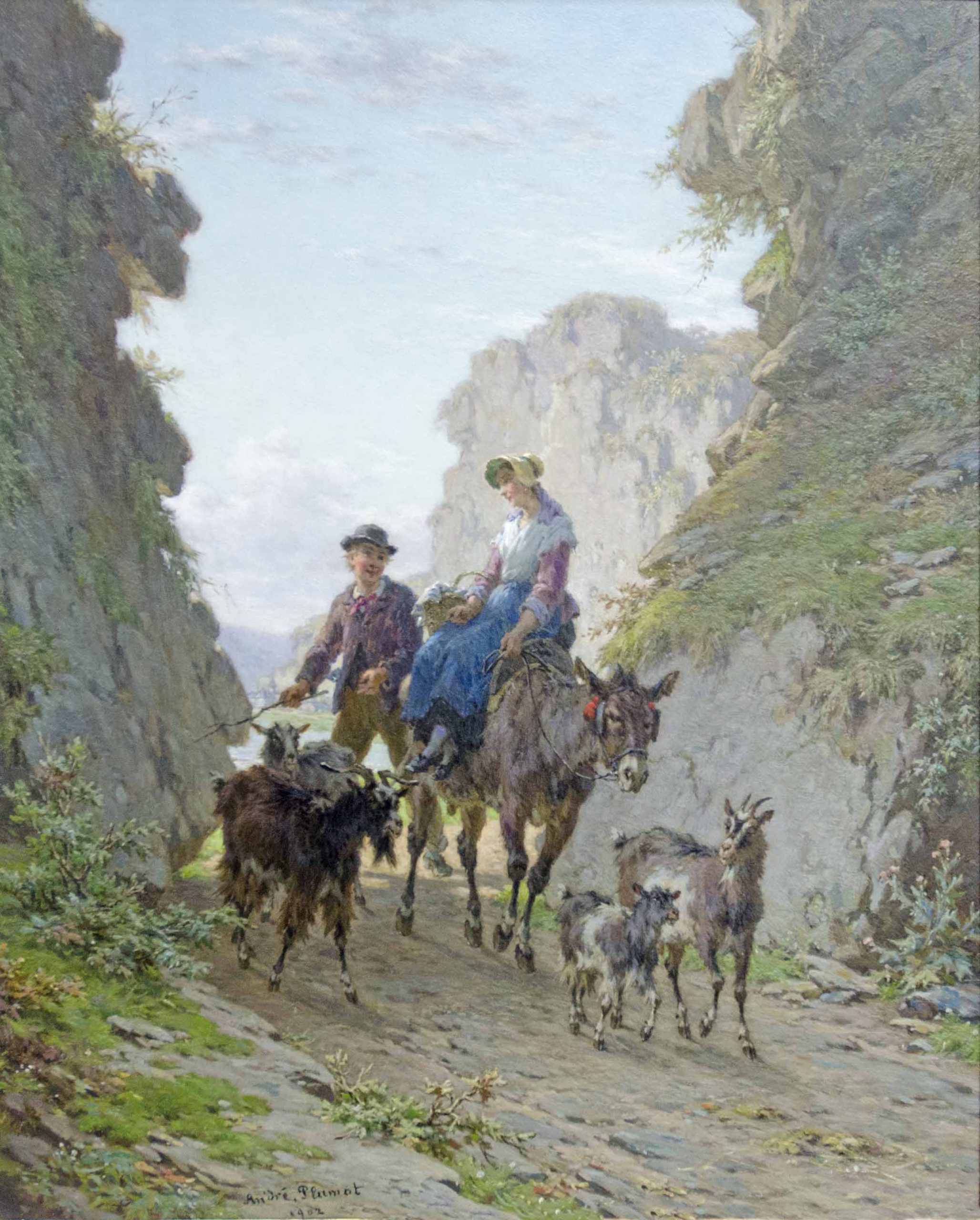 "Promenade à dos d'âne", André Plumot, oil on panel, signed and dated 1902, H 40cm x W 30cm. L'Egide Antiques Collection©.
Monkeys are the specialty of Vincent de Vos and Zacharie Noterman.
Charles Van den Eycken Jr. was a pupil of Stevens at the Brussels Academy. He quickly became known for his pictorial representations of dogs and cats in interiors. He did not portray the animals, but rather they were active participants. They are most often depicted in touching or playful situations, which bring his works to life.
Charles was also an active member of "L'Essor", an art circle founded in 1876 when realism became a unifying movement among many young artists. The motto of L'Essor was "One art, one life" and thus emphasizes the link between Art and Life. The founders were seen as progressive and rebelled against academic conservatism.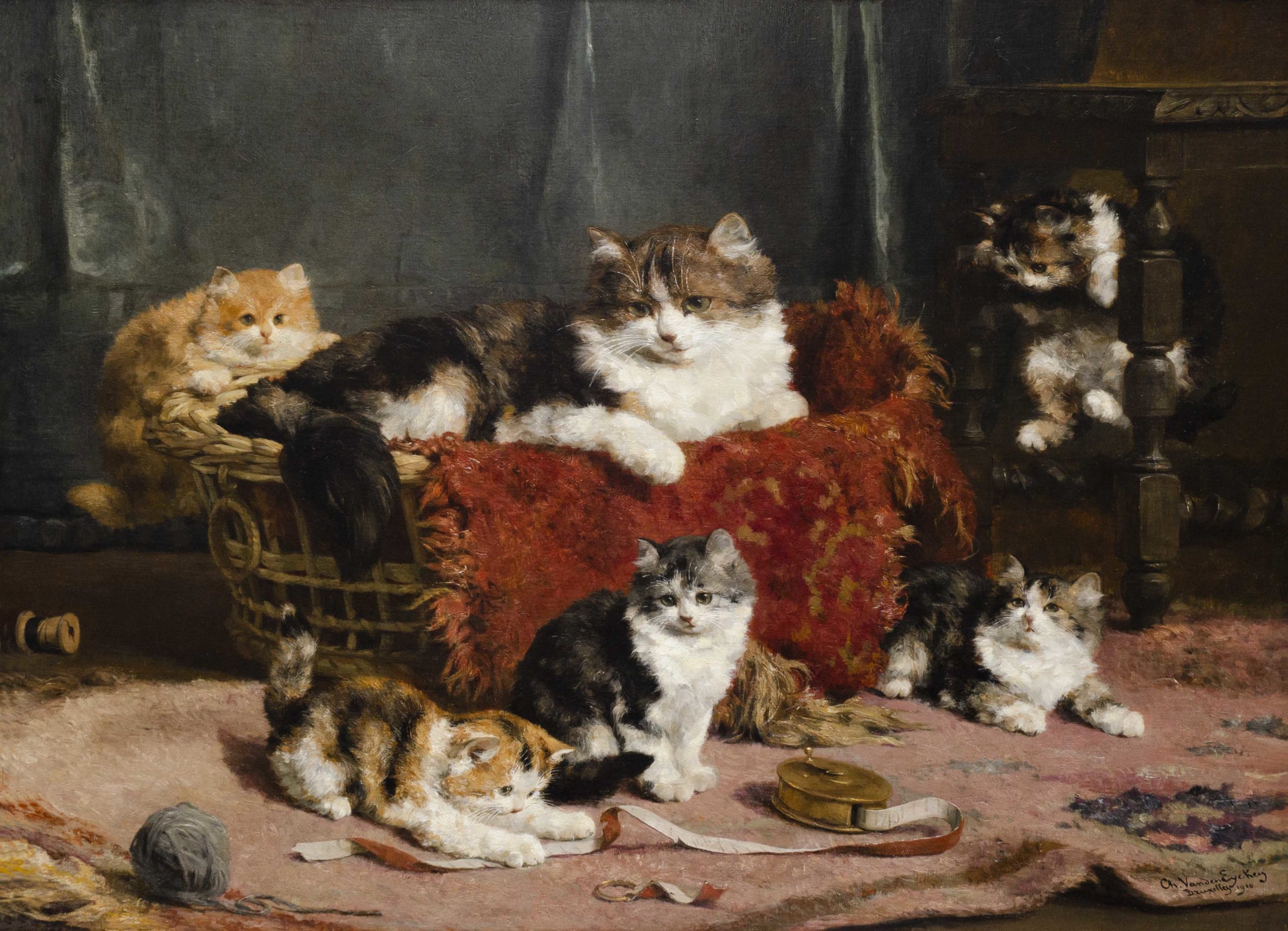 "Family of cats in the sewing room", Charles Van den Eycken, oil on canvas, signed "Brussels, 1910", H 68cm x W 94cm. L'Egide Antiques Collection©.
From 1881 onwards, he regularly exhibited at the Brussels, Liege, Ghent and Antwerp art fairs, as well as in the Netherlands, Germany and even Spain. He received numerous medals. Highly coveted, he carried out numerous commissions, notably for Queen Marie-Henriette of Belgium.
Today, this style of work still has an audience, but it is not "fashionable", which allows amateurs to acquire them at reasonable prices.
In the second half of the 19th century, impressionism and, more broadly, open-air painting, enabled certain artists, such as Emile Claus and Rosa Bonheur, to regain their passion for depicting livestock and other companion animals.
The advent of zoos and the possibility of seeing (wild) animals up close will influence generations of Art Nouveau and Art Deco artists. Paul Jouve and his contemporaries sublimated the animal portrait through pure lines, works that are constantly sought after on the art market.
Aurélie Di Egidio
L'Egide Antiques Brussels, the 10th of September 2021.
Source:
– "Du coq à l'âne", La peinture animalière en Belgique au 19e siècle, exhibition catalogue, Norbert Hostyn, 1982, imprimerie Georges Thone S.A.
– "Kortrijkse dierenschilders van de 19de eeuw", exhibition catalogue, Kortrijk City Hall, Paul Debrabandere and Isabelle Bauwens – De Jaegere, 1987, Snoeck-Ducaju & Zoon printing house
– Arto, biographical dictionary of plastic arts in Belgium, Wim and Greet Pas, 2002, De Gulden Roos.
– "Dictionnaire des peintre belges nés entre 1750 et 1875", P et V Berko, 1981, éditions Laconti, Brussels.
– L'Abécédaire du parcours animalier du musée des Beaux-Arts de Bordeaux. XIXe et XXe siècles, Version of 04/06/2015.